So I didn't realize that I haven't blogged all year!!

Happy New Year to everyone!



Things have been way crazy!! Starting a new job and my contunied search for another one!!

I finally got to get some crafting done!!



This is for the January Sisterhood Card swap.........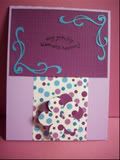 Some of you may remember I had made cards a few months ago for this swap. After cleaning my craft room I couldn't find them so I had to make new ones!!! Well I think these are way cuter!!

Thanks for looking!!